Trinity 20
Messy Church - needs Lego and Duplo
We would be very grateful for donations of pre-loved Lego and Duplo bricks and figures. Please contact Sue or Mel.
Volunteers drivers needed
Volunteers are needed for the Three Rivers Car Scheme. Please get in touch with Muriel Hood on 01638 666722

Messy Church - Help needed!
Please would you consider becoming a leader or helper, either on a regular or occasional basis? Contact Sue for further information.

Foodbank
Please don't forget to bring your contributions to church or the local Co-op shops. Your contributions are still very much needed and really valued.
There is also always a need call for toiletries - soap, shampoo, shower gel, toothpaste and so on - and pet food.
Mums+ - next on October 12
Mums+ is a monthly coffee morning for fun, conversation and sharing our questions of life, faith and parenthood – all ages welcome. For more details contact Laura Cox-Watson 01638 724839.
Upcoming dates -
Contact: Laura Cox-Watson 724839.
Messy Church - next on October 14
For families - Crafts, story/song session and a simple meal at Fordham church from 3.30-5.30pm on the second Sunday of the month.
If you know anyone who would like to take part, or you would like to help in any way please do speak to one of the Ministry Team.
The Monday Prayer Group - next on October 15
The prayer group meets at 1.30pm on Mondays for an hour of prayer. We meet at 1 West Street, Isleham.
Tuesday mornings - opportunities to meet:
Fordham church cafe in the undercroft
From 9am onwards. Refreshments and play area for children.


St Andrew's Isleham Coffee morning at The Social Centre
Tea, coffee, cake and bacon rolls, from 9am-12noon.
If you are interested and would like to know more about the Day Centre please contact Judith Wood. Tel: 01638 720328.
The Way of Life Study Courses - two new courses at Isleham
Evening - next on October 15 at 7.30-9pm
Daytime - next on October 17 at 10.30am-noon
We are going to be running the diocesan study course "The Way of Life" over the next few years. The hope is that everyone who worships regularly with us will complete it at some point.
Two new courses start soon at St Andrew's Social Centre in Isleham.
Wednesday mornings 10.30-noon starting on September 12 for six weeks. This will be a version which is designed for those who prefer a more visual and interactive experience.

Monday evenings 7.30pm-9.pm starting on Monday October 8 for 6 weeks.
This version is for those who enjoy engaging with words and study.

So, we know what materials to have on hand please can you let us know if you want to attend.
There is a lot of information about the Way of Life study course on the Ely diocese web site:
http://www.elydiocese.org/way-of-life
Soham Books at St Andrew's Church Social Centre - October 16
Soham Books will be at the Social centre on Tuesday October 16 from 9.30am to 12noon offering Christmas cards, gifts, books.
Blessing of Companion Animals. St Andrew's Isleham,
a Group Service on Sunday October 21 at 4pm
All Souls' Services
A time to remember those whom we love but no longer see. These services include scripture, prayers, hymns, the reading out of names and opportunity to light a candle in remembrance of loved ones. Please add the names you wish to be remembered on a sheet at the back of the church.
Fordham, Sunday October 28 at 6.30pm

Chippenham, Friday November 2 at 7.30pm

Isleham, Sunday November 4 at 4pm
Fordham Day Centre Lunch Club - next on Wednesday October 24
Fordham Day Centre is a lunch club for older people and meets on the 1st and 4th Wednesday of each month from 10.30am to 2.30pm.
We meet at Withers' Place community room for company, chat and food. Coffee and tea are provided on arrival, then lunch and a cup of tea before you leave.
We have a "mobility" taxi available, if needed, for transport to and from the meetings. The Day Centre is run by volunteers (not carers) who cook and look after the members.
Open Mission Shaped Ministry Course - next on November 1
Mel is now heading into the second and final year of her placement with us. There is an opportunity to join Mel on a 'Mission Shaped Ministry' course for anybody who is interested in finding out more about Fresh Expressions, mission and how to engage more with people currently outside of the church.
Sessions will run on the first Thursday of each month, 9:30 - 1pm in Bishop Woodford House Ely, led by Rev. Jonnie Parkin, starting on October 4. Please contact Mel if you are interested in attending.
..............
Annual Parochial Church Meeting - Reports for download
The ACPM held on Tuesday April 24 at Fordham School. A speaker from the Diocesan Stewardship Department made a presnetaion at the start of the meeting.
Reports (in PDF format) from the Group and the parishes can be downloaded from the links below:
Advice and guidance on security for places of worship
"The news from France and the random, cold blooded murder of the Roman Catholic priest Father Jacques Hamel has been a shock to many of us. It is also very unsettling as it is a Priest doing what so many of us do, simply going about our normal ministry. However, that doesn't mean we should be fearful or overly concerned. We do need to be careful. "

The Ven Hugh McCurdy, Archdeacon of Huntingdon & Wisbech and The Ven Dr Alex Hughes, Archdeacon of Cambridge write:

"The police have been working with church leaders in the UK to establish a communication network through which reassurance and guidance to the Christian community can be passed. Last week's murder of a priest in France is a terrible tragedy, but we must use it to test our ability to communicate to this wider network and I want to offer the following advice.
Church leaders and their congregations should remain alert not alarmed.
There is no current intelligence to suggest any attack planning of this nature in this country. However it makes sense for all church leaders to review their security plans and to encourage their flock to be vigilant. Any suspicious behaviour should be reported immediately through 999."
Church Schools
Our Diocese of Ely Multi Academy Trust (DEMAT) is growing fast. When schools become Academies, Church Schools have to go into a Church Trust. So far in our Diocesan Schools' family (83 Primaries and 1 Secondary), some 20 plus primaries are part of the Trust. Canon Peter Maxwell is the Chair of the Trust and Mike is a Director. The two schools in our Parish are considering Academy Status.
There will be a Government White Paper in a couple of months time and we expect it to propose that all schools become Academies very shortly. If you would like to know more about Church Schools then do ask David or Peter.
Bishop of Ely's statement on Syrian refugee crisis
Thank you to everyone who focused their prayer last week on the refugee and migrant crisis. Please continue to pray for a sane and just solution.
Suggestions of what we can do as individuals and as churches are included in the Bishop of Ely's statement on the crisis.
Speaking about the Syrian refugee crisis, the Bishop of Ely, the Rt Revd Stephen Conway said: 'The Bible tells us to love our neighbour, but many more times to love the stranger. The Syrian refugees, whether they have made it as far as Europe or not, are our sisters and brothers. We need to offer a Biblical welcome. The refugees' burden of fear, loss and deprivation is our burden. We must find a language of welcome, not suspicion.

'We should be proud of Britain's ongoing commitment to overseas aid and humanitarian relief. We must support people in refugee camps in and around Syria. And we also have a responsibility within Europe to share the burden of countries like Greece and Italy, among the first entry points.

'Britain must participate fully in a European welcome for those who are vulnerable and fleeing violence and oppression. We must welcome all – Muslim and Christians equally; but we should remember that many refugees are Christians from villages which have lived the faith since Apostolic times.

'I invite us all to continue to pray and to consider what other help we may provide, for example supporting one of the charities at work on the ground.'

A number of charities and non-governmental organisations have opened appeals specifically aimed at helping the plight of refugees.

The Foodbank in Soham is open on Thursday mornings from 9.30-11am.

If you would like to find out more about the Foodbank operation in this area just drop in and introduce yourself to Howard Laver or one of the helpers who'll be pleased to tell you all about it.

Your contributions are still very much needed and really valued.

In Isleham we have been collecting an average of over 50 items a week - and one week we had over 100 items - thank you.

At Isleham we welcome donations of food at the Co-op, our Sunday service and at our Coffee mornings at the Social Centre on Tuesday mornings; we can also accept donation of cash.

In Fordham and Isleham, we have collection boxes in the Co-op stores, so you can also donate there.

If you can't see the box in the Co-op then please ask the staff, it is there, and it would be good to make sure that they are used as much as possible.

Reading the Bible

The website http://3rivers-bible.blogspot.co.uk/p/the-three-rivers.html

The missing weeks, with commentary, are now up, and further weeks will be added as we come to them. Remember - it'll be over by Christmas! Well done if you're still with it - I'm a bit behind, but gradually catching up, so I too can say 'I read the whole Bible this year!'

Children and Holy Communion

All five PCC's have now agreed that our church family younger children (aged 7 and above) may be admitted to Holy Communion after appropriate instruction.

Muriel Hood and Ruth Ogden have agreed to instruct our young people. If there are young people in your family who would like to receive communion, then please do speak with Mike.

Fairtrade at Isleham

Fairtrade has always played an important part of Isleham's shopping experience! Our own Co-op in Isleham has an excellent range of Fairtrade goods.

Keyboard Lessons

Geoff Symon, professional organist and teacher, is keen to encourage church musicians living in the parishes. He is happy to teach keyboard players in their own homes. Beginners and all grades are welcome. All styles of music are encouraged. Give him a call on 0785 259 6351.

Pewsheet

If you have items for inclusion in the pewsheet then do speak to any of the Ministry Team, or ring Carol Noble (Group administrator) on Wednesday mornings, when, usually, it is compiled on 01638-721616.

Bell ringing

Our bells are rung from just after 9am each Sunday to call people to worship at 9.30am, and again on Friday practice nights from 7.30pm for an hour or so (but always stopping by 9pm).

We also ring for weddings and other special occasions.

Thefts from our churches

Both Kennett and Chippenham have had substantial amounts of lead stolen from their roofs. A section of Fordham's lightning conductor was also taken, making the building unsafe and unprotected. Do please keep an eye out for any illegal behaviour around our churches and report it speedily both to the Police and to Churchwardens. Vigilance is essential these days I am afraid.

Regular Giving envelopes

if you would like Regular Giving envelope please see Robert Savage. If you are UK tax payer we can reclaim tax if you complete a Gift Aid form (also available from Robert).

St Andrew's is a member of The Three Rivers Group

The Three Rivers Group, a United Benefice, comprises the parishes of:
Chippenham - St Margaret
Fordham - St Peter & St Mary Magdelene
Kennett - St Nicholas
Isleham - St Andrew
Snailwell - St Peter
Each parish has its own Parochial Church Council (PCC), looks after its own finances and has its own style of worship.
The ministry team comprises:
The Revd David Cleugh, Rector Designate.
The Revd Sue Potts, Associate Priest.

Mrs Carol Taylor (Licensed Lay Minister).

Mark Liversidge is Authorised Lay Minister (Music) at Isleham.
Isleham history on-line
Read about the history of Isleham on the British History Online web site.
A visitor's view of our church
"St Andrew's is a wonderful church – a beautiful building filled with an array of treasures" .
"St Andrew's has the grandest clerestory we've encountered in Cambridgeshire."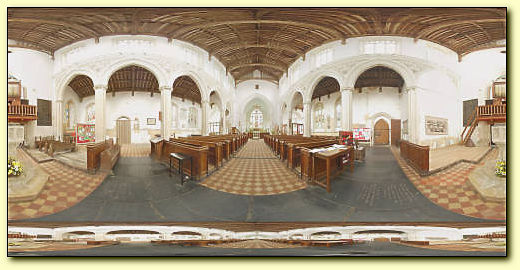 Click on the image above to view a panoramic image of the church