Foodbank
Please don't forget to bring your contributions to church or the local Co-op shops. Your contributions are still very much needed and really valued.
Serving the villages, including those around Soham, has depleted the stock held in Ely.
At the moment the Foodbank particularly needs coffee, biscuits, jam, sugar and Smash instant potato - but has plenty of beans, pasta and soup in the central store.
Prayer changes everything... join our prayer group...
next on April 2
Are you interested in co-operating with God in this venture? It can change the world, our five churches, those around in need and yourself too.
We meet on a weekly basis to pray together about current affairs and needs for approximately one hour, and would welcome any who would like to join us, whether you wish to pray aloud or in your heart.
We next meet on Thursday April 2 at 10.30am at the Vatcher's, 96 The Causeway, Isleham.
Holy week and Easter - March 29 to April 5
Holy Week and Easter is March 29 to April 5.
The Student Cross will be walking through our parishes on Tuesday March 31 and Wednesday April 1. They will be staying at Fordham's Victoria Hall on the Tuesday night. They will be with us for Compline and Address on the Tuesday evening and then after their breakfast, they have a short service in church at 8am before they set off for Methwold.
Sunday March 29
Agape at Kennett at 6pm.
Monday March 30
Compline & Address at Snailwell at 7.30pm.
Tuesday March 31
Compline & Address at Fordham with the Student Cross at 7.30pm.
Wednesday April 1
Compline & Address at Chippenham at 7.30pm.

Maundy Thursday April 2

Eucharist & Foot Washing at Isleham at 7.30pm.
Good Friday April 3

10.30am Ecumenical service at Pound Lane Free Church.
2-3pm Way of the Cross at Fordham.
8pm Tenebrae at Chippenham.
Jenny Gage licensing - Easter day
Jenny Gage will be licensed on Easter Day to the Grunty Fen group at 4pm at Haddenham. We will go over and support her in this new stage in her ministry.
Jenny invites singers: We're planning to have a 'come and sing' choir for my licensing, all 3 Rivers singers are invited and will be made very welcome. There will be a rehearsal at 2.30pm on Easter Day, ahead of the service at 4pm.
Easter Day - services in the Three Rivers group
5.45am
The Light of Christ.
Chippenham.
8am
Holy Communion (BCP).
Fordham.
9.30am
Holy Communion.
Snailwell
(Kennett please join Snailwell).
9.30am
Holy Communion.
Isleham.

11am
Sung Eucharist.
Fordham.
11am
Sung Eucharist .
Chippenham.
4pm
Jenny Gage licensing service.
Haddenham.
Messy Church next on April 12 at Fordham

For families - Crafts, story/song session and a simple meal at Fordham church once a month from 3.30-5.30pm.

If you know anyone who would like to take part, or you would like to help in any way please do speak to one of the Ministry Team.

Do encourage those you know to come along. It's great.

Upcoming dates - 12 April, May 10, June 14 & July 12.

Healing Eucharist - next on April 19 at Fordham at 6.30pm

Healing Eucharist will always be on the 3rd Sunday of the month in the evening and is held at Fordham at 6.30pm.

Mums+

Mums+ is a monthly coffee morning for fun, conversation and sharing our questions of life, faith and parenthood – all ages welcome.

We meet at the Fordham Garden Centre cafe from 9.15am (after dropping older children off at school). All welcome.

Change of day to Fridays:

For more info: Helen Banyard – 721616.

The Annual Parochial Church Meeting - April 28

The Annual Parochial Church Meeting (APCM) will be on Tuesday April 28 at 7.30pm at Isleham Church of England Primary School. The annual report will be available at the meeting, and we will follow the meeting with refreshments as usual.

Julian Prayer Group - next in May

The Julian Prayer Group is taking a break until May. The group will not be meeting in March or April.

We usually meet once a month on a Monday evening at 7.30pm. We usually meet at Fordham vicarage.

We prepare for a period of silent prayer through a combination of words, music, and sometime images, then come out of the silence with music and prayer together.

Most of us find silent prayer on out own difficult. but prying together provides support and a profound sense of God's presence with us. If you would like to deepen your prayer life do come along.

Forthcoming dates; the Julian Prayer Group is taking a break until May. The group will not be meeting in March or April.

New roof for the Social Centre at St Andrew's Isleham

Many thanks for the most generous gift of a new roof for the Social Centre at St Andrew's in Isleham. A parishioner saw the state of the roof, and offered to pay for complete re-roofing, so THANKS. It is all very much appreciated, and the roof looks great too. The builders also put new insulation in the roof and evicted the squirrels.

The Foodbank in Soham is open on Thursday mornings from 9.30-11am at the Salvation Army hall in Chapel Lane.

If you would like to find out more about the Foodbank operation in this area just drop in and introduce yourself to Howard Laver or one of the helpers who'll be pleased to tell you all about it.

Your contributions are still very much needed and really valued.

In Isleham we have been collecting an average of over 50 items a week - and one week we had over 100 items - thank you.

Do pick up a bookmark about the Foodbank with a list of what's wanted in church.

Stocks are currently relatively low in the central store at Ely that supplies the Soham Foodbank distribution centre which serves Soham, Fordham, Isleham, Chippenham and the surrounding villages, which receive more food than they contribute.

At the moment the Foodbank particularly needs long-life fruit juice, jam, sugar and Smash instant potato- but not beans, pasta or soup.

At Isleham we welcome donations of food at our Sunday service and at our Coffee mornings at the Social Centre on Tuesday mornings; we can also accept donation of cash.

In Fordham and Isleham, we also have collection boxes in the Co-op stores, so you can also donate there.

If you can't see the box in the Co-op then please ask the staff, it is there, and it would be good to make sure that they are used as much as possible.

Mike Banyard is a voucher holder for the Three Rivers Group; and in Isleham Foodbank vouchers are also available from the Revd Christopher Goodwins, 102 The Causeway, or call 01638-780284. Please leave a message if you get the answering machine.

Reading the Bible

The website http://3rivers-bible.blogspot.co.uk/p/the-three-rivers.html

The missing weeks, with commentary, are now up, and further weeks will be added as we come to them. Remember - it'll be over by Christmas! Well done if you're still with it - I'm a bit behind, but gradually catching up, so I too can say 'I read the whole Bible this year!' Jenny

Children and Holy Communion

All five PCC's have now agreed that our church family younger children (aged 7 and above) may be admitted to Holy Communion after appropriate instruction.

Muriel Hood and Ruth Ogden have agreed to instruct our young people. If there are young people in your family who would like to receive communion, then please do speak with Mike.

Fairtrade at Isleham

Fairtrade has always played an important part of Isleham's shopping experience! Our own Co-op in Isleham has an excellent range of Fairtrade goods. Now at church, from November 4, there will be a selection of Christmas cards and gifts from around the world. For more information contact Amy Bridgeman on 780539. The Fairtrade 'shop' will also be at the Tuesday coffee morning in the Social Centre when possible.

Christmas is coming! Take a look at the Fair Trade catalogue - you'll find gifts, decorations and everything you need for the Christmas puddings and cake. And don't forget the basics - loo roll, kitchen roll, tissues, ...

See Amy in Isleham or Lydia in Fordham and help support communities in need, while getting ahead in your own preparation.

Keyboard Lessons

Geoff Symon, professional organist and teacher, is keen to encourage church musicians living in the parishes. He is happy to teach keyboard players in their own homes. Beginners and all grades are welcome. All styles of music are encouraged. Give him a call on 0785 259 6351.

Pewsheet

We are experimenting with a new layout for the weekly pewsheet.

If you have items for inclusion in the pewsheet then do speak to any of the Ministry Team, or ring Carol Noble (Group administrator) on Wednesday mornings, when, usually, it is compiled on 01638-721616.

Bell ringing

Our bells are rung from just after 9am each Sunday to call people to worship at 9.30am, and again on Friday practice nights from 7.30pm for an hour or so (but always stopping by 9pm).

We also ring for weddings and other special occasions.

Thefts from our churches

Both Kennett and Chippenham have had substantial amounts of lead stolen from their roofs. A section of Fordham's lightning conductor was also taken, making the building unsafe and unprotected. Do please keep an eye out for any illegal behaviour around our churches and report it speedily both to the Police and to Churchwardens. Vigilance is essential these days I am afraid.

Regular Giving envelopes

if you would like Regular Giving envelope please see Robert Savage. If you are UK tax payer we can reclaim tax if you complete a Gift Aid form (also available from Robert).

St Andrew's is a member of The Three Rivers Group

The Three Rivers Group, a United Benefice, comprises the parishes of:
Chippenham - St Margaret
Fordham - St Peter & St Mary Magdelene
Kennett - St Nicholas
Isleham - St Andrew
Snailwell - St Peter
Each parish has its own Parochial Church Council (PCC), looks after its own finances and has its own style of worship.
The ministry team comprises:
The Revd Mike Banyard, Rector.
The Revd Dr Jenny Gage, Associate Priest.
The Revd Sue Potts, Curate.
Helen Banyard, Licensed Lay Minister.
Isleham history on-line
Read about the history of Isleham on the British History Online web site.
A visitor's view of our church
"St Andrew's is a wonderful church – a beautiful building filled with an array of treasures" .
"St Andrew's has the grandest clerestory we've encountered in Cambridgeshire."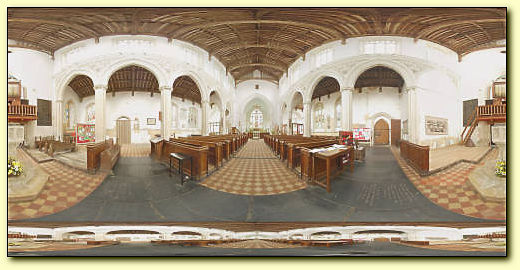 Click on the image above to view a panoramic image of the church