Rev'd Sue Potts to join the Three Rivers Group

It will be good to welcome the Rev'd Sue Potts as our House for Duty Curate in September. Her first Sunday will be September 28. Sue and her husband will live in the Vicarage at Chippenham.

Mega Makers - Three Rivers Group Holiday Club - July 28 - August 1

Mega Makers is the title for our Holiday Club this year. We will meet at the Victoria Hall in Fordham, and are delighted that Rich Gilbert and Janine Taylor will be leading for us. We will gather a large team of helpers, so if you would like to help, then do please get in touch with Mike or Jenny or Helen.

The Club will run from 10am – 12 noon, Tuesday July 29 – Friday August 1. More details soon.

Discipleship Group - next on July 31

The next meeting is on Thursday 31 July, 2pm, at the Vatcher's 96 The Causeway, Isleham. All are welcome. Talk to Jenny to find out more.

Family Service at Kennett - next on August 3 at 1pm

We now have a monthly service of the word, generally on the first Sunday of the month at 3.30pm.

Upcoming services are:
August 3 - Family service with baptism (1pm, not 3.30pm).
100 years since the start of WW1 - Monday August 4

On Monday August 4, Evensong at 5.30pm in the Cathedral will include prayer and music to commemorate the outbreak of war. This will be followed by a silent vigil, and then Compline sung at 9pm. All are welcome to attend any part of this.

Quilts and quilting display at St Andrew's Isleham - August Bank Holiday weekend

With refreshments and so in in the Social Centre; more information from Nettie May and Kathy Carver.

Julian Prayer Group

The next meeting will be at Fordham Vicarage.

Mums+

Mums+ is a monthly coffee morning for fun, conversation and sharing our questions of life, faith and parenthood – all ages welcome.

From 9.15am (after dropping older children off at school). All welcome.

Change of day to Thursdays:

For more info: Helen Banyard – 721616.

Children and Holy Communion

All five PCC's have now agreed that our church family younger children (aged 7 and above) may be admitted to Holy Communion after appropriate instruction.

Muriel Hood and Ruth Ogden have agreed to instruct our young people. If there are young people in your family who would like to receive communion, then please do speak with Mike or Jenny.

We have at least 3 children who want to prepare to participate in Holy Communion, and a first set of sessions will take place in August. Others will take place later in the year as there is demand. To join in either the August sessions, or to indicate that a later time would be better, please tell Mike, Jenny or Helen.

Fordham Flower Festival - September 19 and 20

Brenda Lee, the organiser of the festival is looking for further entries for this festival, inspired by our national commemorations of the outbreak of the First World War. If you can help in any way please speak with her or Mike.

Holy Land Pilgrimage - November 2014

We are joining with Kate's parishes on a joint pilgrimage to the Holy Land in November 2014.

There are a few places still available so if you would like to come please speak to Mike. It is now cheaper than advertised. Full details of the final arrangements are being made so this promises to be a deeply inspiring and helpful journey on our own pilgrimage through life.

Foodbank

In Isleham we are now collecting an average of over 50 items a week - and one week we had over 100 items - thank you; your contributions are much needed and really valued.

Do pick up a bookmark about the Foodbank with a list of what's wanted, you'll find them by or in the pink box in church.

At the moment the Foodbank needs canned goods; in particular, meat, vegetables, tomatoes, sponge and rice puddings. But already they have plenty of pasta or baked beans.

At Isleham we welcome donations at our Sunday service and at our Coffee mornings at the Social Centre on Tuesday mornings.

In Fordham and Isleham, we also have a box, bookmarks and leaflets in the Co-op, so you can also donate there.

If you can't see the box – ask the staff, it is there, and it would be good to make sure that they are used as much as possible.

Mike Banyard and Jenny Gage are voucher holders for the Three Rivers Group, and in Isleham Foodbank vouchers are also available from the Rev'd Christopher Goodwins, 102 The Causeway, or call 01638-780284. Please leave a message if you get the answering machine.

Reading the Bible

Well done to those of you who are managing to keep up with the Bible reading, and to those of you who despite setbacks are still committed to it.

Up to date to at least July 19 now, more coming soon. Apologies to anyone wanting written notes that last week's were late – will try harder! We'll have a break again in August/September to give us all a chance to catch up, before the final push.

Schedule plus notes for July linked from http://3rivers-bible.blogspot.co.uk/p/the-three-rivers.html, or on paper at the back of church.

Fairtrade at Isleham

Fairtrade has always played an important part of Isleham's shopping experience! Our own Co-op in Isleham has an excellent range of Fairtrade goods. Now at church, from November 4, there will be a selection of Christmas cards and gifts from around the world. For more information contact Amy Bridgeman on 780539. The Fairtrade 'shop' will also be at the Tuesday coffee morning in the Social Centre when possible.

Christmas is coming! Take a look at the Fair Trade catalogue - you'll find gifts, decorations and everything you need for the Christmas puddings and cake. And don't forget the basics - loo roll, kitchen roll, tissues, ...

See Amy in Isleham or Lydia in Fordham and help support communities in need, while getting ahead in your own preparation.

Keyboard Lessons

Geoff Symon, professional organist and teacher, is keen to encourage church musicians living in the parishes. He is happy to teach keyboard players in their own homes. Beginners and all grades are welcome. All styles of music are encouraged. Give him a call on 0785 259 6351.

Pewsheet

We are experimenting with a new layout for the weekly pewsheet.

If you have items for inclusion in the pewsheet then do speak to any of the Ministry Team, or ring Carol Noble (Group administrator) on Wednesday mornings, when, usually, it is compiled on 01638-721616.

Bell ringing

Our bells are rung from just after 9am each Sunday to call people to worship at 9.30am, and again on Friday practice nights from 7.30pm for an hour or so (but always stopping by 9pm).

We also ring for weddings and other special occasions.

Thefts from our churches

Both Kennett and Chippenham have had substantial amounts of lead stolen from their roofs. A section of Fordham's lightning conductor was also taken, making the building unsafe and unprotected. Do please keep an eye out for any illegal behaviour around our churches and report it speedily both to the Police and to Churchwardens. Vigilance is essential these days I am afraid.

Regular Giving envelopes

if you would like Regular Giving envelope please see Robert Savage. If you are UK tax payer we can reclaim tax if you complete a Gift Aid form (also available from Robert).

St Andrew's is a member of The Three Rivers Group

The Three Rivers Group, a United Benefice, comprises the parishes of:
Chippenham - St Margaret
Fordham - St Peter & St Mary Magdelene
Kennett - St Nicholas
Isleham - St Andrew
Snailwell - St Peter
Each parish has its own Parochial Church Council (PCC), looks after its own finances and has its own style of worship.
The ministry team comprises:
The Revd Mike Banyard, Rector.
The Revd Kate Peacock, Associate Priest.
The Revd Dr Jenny Gage, Curate.
Isleham history on-line
Read about the history of Isleham on the British History Online web site.
A visitor's view of our church
"St Andrew's is a wonderful church – a beautiful building filled with an array of treasures" .
"St Andrew's has the grandest clerestory we've encountered in Cambridgeshire."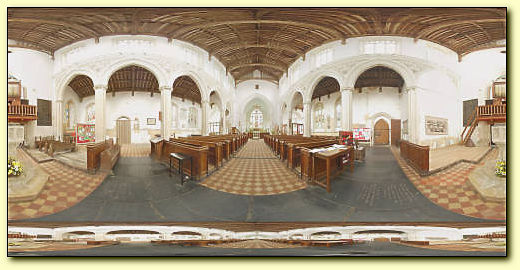 Click on the image above to view a panoramic image of the church