Bite back at hunger this Christian Aid Week 12-18 May 2013
Find out more: http://www.christianaid.org.uk/getinvolved/christianaidweek/index.aspx
May Fayre Fordham - May 18
The May Fayre will be held on Saturday May 18 in the Victoria Hall, Fordham, from 2pm.
Isleham Bands and Blossoms - May 19
Newmarket Town Band and a BBQ at St Andrew's Social Centre Isleham at 2pm. In the church is weather is inclement.
Tickets £10, concessions £7.50, from Angela Wells, Mary Wightman and the Isleham Post Office in Sun Street.
Mothers' Union - next on May 23
Have you been to the new cafe at Fordham Garden Centre? Join us for a coffee at 10.30am on Thursday May 23.
Three Rivers Group Pyramid Rock holiday club - July 31 to August 2
This fun holiday club is being held at the Victoria Hall in Fordham 10am to 12 noon, from Tuesday 30th July 3o to Friday August 2 and is FREE OF CHARGE!
All primary school children aged 5 – 11 years are invited and will enjoy four jam packed mornings of games, crafts and stories with lots of fun thrown in too!
Numbers are limited and will be allocated on a first come first served basis.
Click here for more information and to download the registration form.
Archdeacon's Visitation - St Andrew's Isleham - Wednesday May 29
The Archdeacon's Visitation to swear in the churchwardens of the deanery is to be held at St Andrew's Isleham on Wednesday May 29 at 7.30pm. Refreshments will be served after the service.
Jenny's licensing at Chippenham - June 2
Bishop David is coming to license Dr Jenny Gage as Associate Priest at a special Choral Evensong at Chippenham on June 2 at 6.30pm. Refreshments will be served after the service.
Jenny's licensing at Chippenham - June 2
Bishop David is coming to license Dr Jenny Gage at Chippenham on June 2.
Julian Prayer Group - next on June 10
The next meeting will be on June 10, and then on July 15 and August 12 at the Vicarage in Fordham at 7.30pm.
Mums+ next on June 14
Join us for a monthly breakfast/coffee group for fun, conversation & sharing our questions of life, faith and parenthood – all welcome!
We meet monthly on Fridays at 9.15am (after the school run) at La Hogue cafe, Chippenham.
Dates for the Summer Months:
Friday April 19 at La Hogue Cafe

Friday May 17 A visit to the Soft Play Area at Kings Coffee House, Newmarket.

Friday June 14 at La Hogue Cafe

Friday July 12 at La Hogue Cafe.
For more info: Helen Banyard – 721616.

Greenbelt - a Christian music and arts festival August 2013

Where would you have the chance to hear Francis Spufford (author and broadcaster), John Bell (Iona) and Fr. Christopher Jamieson (BBC's The Monastery) and watch the Hip Hop Shakespeare Company (MOBO award winner) while listening to the London Community Gospel choir and enjoying a pint in the sunshine at the Jesus Arms?

It really has something for everyone, from the very young to the young at heart!

Becca, Rich and Minty Gilbert are inviting you to join them this year at Greenbelt, a Christian music and arts festival in Cheltenham from August 23 – 26.

If you're interested, pick up a flyer at the back of the church, check out www.greenbelt.org.uk or grab Becca for a chat.

Holy Land 2014

We are joining with Kate's parishes on a joint pilgrimage to the Holy Land in November 2014. There are some leaflets in church and if you are at all interested please do talk to any of the ministry team about this wonderful opportunity. The trip is in November when the weather is cooler.

Fairtrade at Isleham

Fairtrade has always played an important part of Isleham's shopping experience! Our own Co-op in isleham has an excellent range of Fairtrade goods. Now at church, from November 4, there will be a selection of Christmas cards and gifts from around the world. For more information contact Amy Bridgeman on 780539. The Fairtrade 'shop' will also be at the Tuesday coffee morning in the Social Centre when possible.

Keyboard Lessons

Geoff Symon, professional organist and teacher, is keen to encourage church musicians living in the parishes. He is happy to teach keyboard players in their own homes. Beginners and all grades are welcome. All styles of music are encouraged. Give him a call on 0785 259 6351.

Pewsheet

We are experimenting with a new layout for the weekly pewsheet.

If you have items for inclusion in the pewsheet then do speak to any of the Ministry Team, or ring Carol Noble (Group administrator) on Wednesday mornings, when, usually, it is compiled on 01638-721616.

Bell ringing

Our bells are rung from just after 9am each Sunday to call people to worship at 9.30am, and again on Friday practice nights from 7.30pm for an hour or so (but always stopping by 9pm).

We also ring for weddings and other special occasions.

Thefts from our churches

Both Kennett and now Chippenham have had substantial amounts of lead stolen from their roofs. A section of Fordham's lightning conductor was also taken, making the building unsafe and unprotected. Do please keep an eye out for any illegal behaviour around our churches and report it speedily both to the Police and to Churchwardens. Vigilance is essential these days I am afraid.

Regular Giving envelopes

if you would like Regular Giving envelope please see Robert Savage. If you are UK tax payer we can reclaim tax if you complete a Gift Aid form (also available from Robert).

St Andrew's is a member of The Three Rivers Group

The Three Rivers Group, a United Benefice, comprises the parishes of:
Chippenham - St Margaret
Fordham - St Peter & St Mary Magdelene
Kennett - St Nicholas
Isleham - St Andrew
Snailwell - St Peter
Each parish has its own Parochial Church Council (PCC), looks after its own finances and has its own style of worship.
The ministry team comprises:
The Revd Mike Banyard, Rector.
The Revd Kate Peacock, Associate Priest.
The Revd Dr Jenny Gage, Curate.
Isleham history on-line
Read about the history of Isleham on the British History Online web site.
A visitor's view of our church
"St Andrew's is a wonderful church – a beautiful building filled with an array of treasures" .
"St Andrew's has the grandest clerestory we've encountered in Cambridgeshire."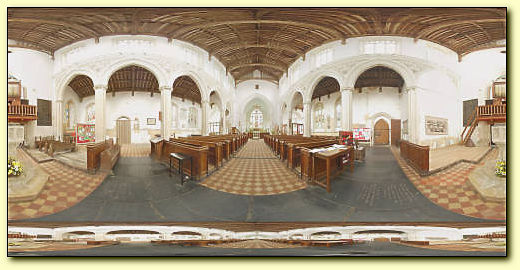 Click on the image above to view a panoramic image of the church