The Rector
The Revd Mike Banyard, and Helen Banyard LLM , retired from the Group on May 5, 2017
We are in interregnum until a new appointment is made.
The vacancy is now advertised on the Ely Diocese web site.
The Revd Sue Potts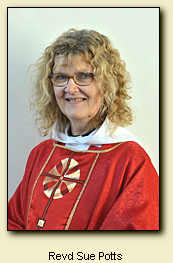 Sue is Associate Priest in the Three Rivers Group of Parishes .
Sue is available to all in the village for a listening ear, for Baptisms, Weddings and Funerals.
Telephone: 01638-721662
Email: revd.sue[at]icloud.com
Sue is assisted by Mrs Carol Taylor (Licensed Lay Ministers).
Mark Liversidge is Authorised Lay Minister (Music) at Isleham.