If you have events for inclusion in the weekly pewsheet then do speak to any of the Ministry Team, or ring Carol Noble (Group administrator) on Wednesday mornings, when, usually, it is compiled on 01638- 721616.
Sundays
10am Junior Church in Social Centre (In Church 3rd Sunday).
The Junior Church needs teachers/helpers, please offer your services.
Tuesdays
9am to 12 noon Coffee Morning in Social Centre (except March 29).
Everyone welcome!
A short (15 to 30 minutes) Evening Prayer service will be held every Tuesday at 4.30pm.in the Limestone Close community room.
Fridays

6.30pm Choir practice in the Social Centre - New singers welcomed.
Contact Mark Liversidge (01638 781696).

7.30pm Bell ringing practice - Beginners welcomed!
Contact Ruth Ogden, the Tower Captain, for more info.
| | |
| --- | --- |
| May 19 | Isleham Bands and Blossoms - Newmarket Town Band and a BBQ at St Andrew's Social Centre Isleham at 2pm. Tickets £10, concessions £7.50 from Angela Wells, Mary Wightman and the Isleham Post Office in Sun Street. |
| May 23 | Mothers' Union meets for coffee at the new cafe at Fordham Garden Centre at 10.15am. |
| May 29 | Archdeacon's Visitation at St Andrew's Isleham to swear in churchwardens. A special service on Wednesday May 29 at 7.30pm. Refreshments served after the service. |
| June 2 | Licensing of Dr Jenny Gage with Bishop David at a special Choral Evensong at Chippenham at 6.30pm. Refreshments after the service. |
| June 10 | Julian Prayer group meets at Fordham Vicarage at 7.30pm. |
| June 14 | Mums+ - meets at La Hogue cafe after the school run. |
| July 15 | Julian Prayer group meets at Fordham Vicarage at 7.30pm. |
| July 30-August 2 | Three Rivers Group Pyramid Rock - a holiday club for kids 10am-12noon at Victoria Hall, Fordham. |
| August 12 | Julian Prayer group meets at Fordham Vicarage at 7.30pm. |
| September 3 | Three Rivers Group Joint PCC meeting. |
Julian Prayer Group - next on June 10
The next meeting will be on June 10, July 15 and August 12 at the Vicarage in Fordham at 7.30pm.
Join us for a monthly breakfast/coffee group for fun, conversation & sharing our questions of life, faith and parenthood – all welcome!
We meet monthly on Fridays at 9.15am (after the school run) at La Hogue cafe, Chippenham.
Dates for the Summer Months:
Friday April 19 at La Hogue Cafe

Friday May 17 A visit to the Soft Play Area at Kings Coffee House, Newmarket.

Friday June 14 at La Hogue Cafe

Friday July 12 at La Hogue Cafe.
For more info: Helen Banyard – 721616.
Three Rivers Group Pyramid Rock holiday club - July 30 to August 2
This fun holiday club is being held at the Victoria Hall in Fordham 10am to 12 noon, from Tuesday 30th July 3o to Friday August 2 and is FREE OF CHARGE!
All primary school children aged 5 – 11 years are invited and will enjoy four jam packed mornings of games, crafts and stories with lots of fun thrown in too!
Click here for more information and to download the registration form.
The Three Rivers Group Mothers' Union - next May 23
See the Three Rivers Group web site for Mother's Union programme of meetings and events.
Please contact Helen Banyard 721616 Or Jenny Bowen 720820 for further information. All our meetings are open to everyone, members and non-members alike.
Thursday May 23 – Have you been to the new cafe at Fordham Garden Centre? Join us for a coffee at 10:30am.
Three Rivers Mothers' Union new banner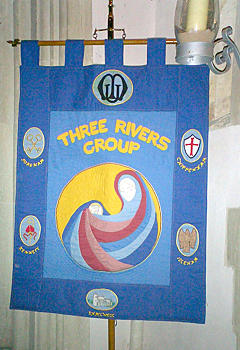 Our new branch banner was blessed at the Holy Communion Service held at Chippenham Church on Monday 12th November. It was paraded at the Commissioning Service on Saturday 24th at Ely Cathedral.
The Mothers' Union Magazine, Families First
The Mothers' Union Magazine, Families First, is now available in some branches of Sainsburys,
W H Smith and local newsagents. Locally it can be bought for £2.50 from Central House, Burwell, W H Smith Cambridge and Tindalls Newsagents Newmarket and Ely Station. It is an excellent family magazine and we encourage you to give it a try.
Purpose, Aim and Objects
The purpose of the Mothers' Union is to be specially concerned with all that strengthens and preserves marriage and Christian family life.
The Aim of the Society is the advancement of the Christian religion in the sphere of marriage and family life.
In order to carry out its Aim, its Objects:
To uphold Christ's teaching on the nature of marriage and promote its wider understanding.

To encourage parents to bring up their children in the faith and life of the Church.

To maintain a worldwide fellowship of Christians united in prayer, worship and service.

To promote conditions in society favourable to stable family life and the protection of children.

To help those whose family life has met with adversity.
Sundays@7 - a group for year 6+
Sundays@6 becomes Sundays@7 as we combine with St Andrew's Soham.
We will in future meet alternately in Isleham and Soham.
Join us for a new year of events for fun, food and faith.
Year 6+ welcome.
Upcoming dates:
| | | |
| --- | --- | --- |
| January 13 | The Old Vicarage, Isleham. | 'Icebreaker'. |
| January 27 | St Andrew's Church, Soham. | 'Murder in the Dark' . |
| February 10 | The Old Vicarage, Isleham. | 'Pancakes'. |
| February 24 | St Andrew's Church, Soham. | 'Quiz Night'. |
| March 3 | The Old Vicarage, Isleham. | 'Mothering Sunday Gifts'. |
| March 17 | St Andrew's Church, Soham. | 'Easter Egg Hunt'. |
| April 14 | The Old Vicarage, Isleham. | 'Inside Games'. |
| April 28 | St Andrew's Church, Soham. | Treasure Hunt'. |
The dates for rest of year will be more predictable but March and April avoids Mothering Sunday and Easter.
For more information please speak to the Rev'd Mike Banyard on 01638-721616, the Rev'd Tim Alban-Jones on 01353-720423. Or join our Facebook page Sundays@7.
Book swap at Chippenham
Book Swap would like to thank their supporters. A cheque for £50 has been sent to the Arthur Rank Hospice.
Come and join us and bring your unwanted books. Paperbacks – 25p. Hardbacks 40p. Refreshments – 50p.
Everyone is welcome.
The visit to the Spurgeon baptismal stone - May 3 2013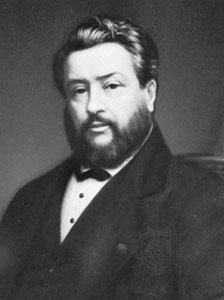 Christopher Goodwins writes: About forty men, women and children - representatives and others from Pound Lane Church, High Street Church, and The Three Rivers Group - met in East Fen Road on Friday afternoon, May 3, for a leisurely half-hour trundle along Ferry Drove to the River Lark, by kind permission of Mr Derrick Beckett.

This novel event was planned to mark what we believe may have been the fortieth anniversary of the siting of a memorial stone, marking the place where the Reverend Charles Haddon Spurgeon was baptised by total immersion in the River Lark on that very day in 1850.
He earned the title of 'The Prince Of Preachers,' because his sermons proved to be the most powerful means of persuading thousands of people to become Christians.

The ecumenical trundle was a relaxed and pleasant occasion in bright sunshine, and a wonderful way of making friends, and getting to know one another. A small souvenir publication was given to all present, with illustrations of former baptisms there, the ferry, Spurgeon himself, and other interesting photos; and Mr Dave Hall, of Pound Lane Church, spent a moment highlighting some of the facts about Spurgeon's great Ministry.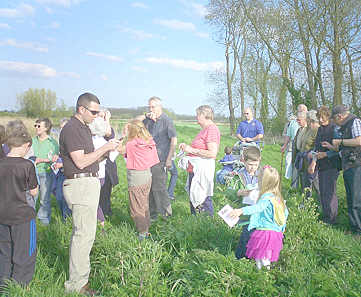 It was surprising, however, that nobody seemed to know for certain who put the stone there, who paid for it, or who planned it.
Even more surprising is the fact that so few people today even know of its existence, and few have ever seen it. Of all the things that Isleham is known for, the guide books are remarkably silent about the huge importance to the Christian Church of the Baptism of this remarkable clergyman.

Our 2013 visit was held to be such a success that we have been asked to make it an annual occasion.
Next year, May 3 falls on a Saturday. Now that we all have a year's notice, maybe we could arrange to have our choirs, a brass band, and some hearty hymn-singing at the Spurgeon baptismal stone? Maybe a different aspect of his Ministry each year could be featured, maybe some snippets from some of his sermons, and full Media coverage?

Do let us have your ideas, photos, thoughts, and suggestions about next year's visit. But please don't delay – because next May 3 is only about a year away!

Want to know more about Charles Spurgeon?:
http://en.wikipedia.org/wiki/Charles_Spurgeon
http://www.spurgeon.org/aboutsp.htm
Kate's Institution - December 18
A lovely evening when 35 members of our churches went to Great Hormead to support Kate, Daniel, Emma and Alice at Kate's institution as Priest-in-Charge of her new parishes there. Thanks to everyone who came. It was a great evening.
Isleham Festival of Light
- December 8 & 9 and 15 & 16
A wonderful two weekends of the whole community coming together to celebrate Advent and all our preparations for Christmas. The Carol Service last Sunday was super, so a big vote of thanks to all who made it works so well. We collected about £1,500 towards church funds. Thanks.
If you have never been been this year you missed an impressive display of nearly 40 illuminated Christmas trees, donated and decorated by local groups and businesses.
Click here to view some pictures of the Festival of Light in 2007
There were more than 45 Christmas trees on display in 2010 as shown in the panoramic image below.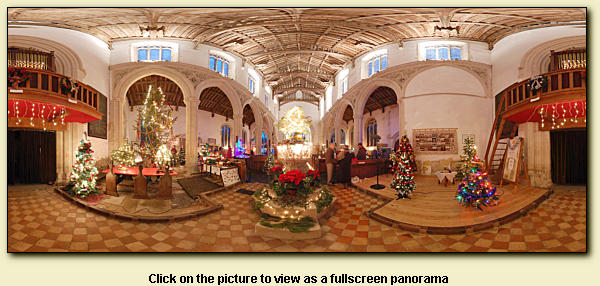 Click and drag to rotate the panorama, and use the + and - keys to zoom in and out.
Canon Tim Elbourne's final services - November 25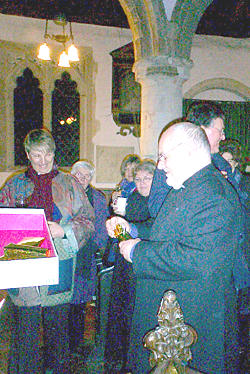 Congratulations to Canon Tim Elbourne, who has been appointed as Diocesan Director of Education in the Diocese of Chelmsford.
Tim has been in Ely since 1998, and has been Associate Priest here in the Three Rivers Group for the past 12 years. His ministry has been highly valued here and we shall all miss him.

Tim's final services were last Sunday, November 25 at Isleham at 9.30am, and then at Chippenham, with Snailwell, at 6.30pm followed by a reception where he was presented with a selection of 'Essex-themed' gifts, including spray-on fake tan and a guide to Estuary English.


Harvest 2012
It was so good to welcome our three schools into church for their Harvest Festivals. Over 600 children, staff, parents and grandparents attended at Fordham, Isleham & Kennett. A further 250 attended our Harvest Festivals, all followed by Harvest Suppers. Thanks to everyone who contributed, delivered produce and made Harvest such a time of thanksgiving for all.
St Andrew's Summer Social weekend - August 25 & 26
A great weekend of activities last week at Isleham to welcome cyclists from Mildenhall, and many others too. We raised about £1,300. Thanks to all who worked so hard!
Come and Sing Evensong - June 9 2012
The "Come and Sing evensong" organised by the Archdeaconry of Cambridge Church Music Society on the theme of A Summer Of Celebration at St. Andrew's, Isleham yesterday was a splendid event. It was open to singers in the Archdeaconry. Music included works by Purcell and Stanford. Many thanks to Mark Liversidge for making this happen in our parish.
Isleham Festival of Light - November 26-28 2010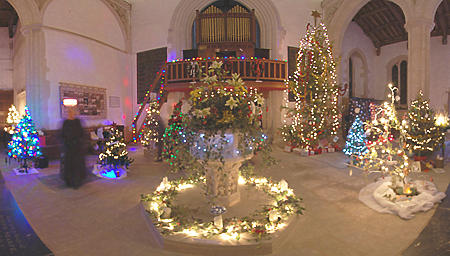 The Isleham Festival of Light was celebrated over the weekend November 26-28 to mark the beginning of Advent.
There were more than 45 Christmas trees on display.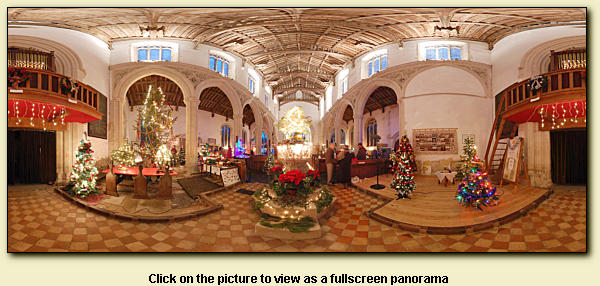 Sundays@6 Rave in the Nave in the Styx
Following the success of last year's 'Sponsored Sleep-Over in Church' for Children in Need St.Andrew's, Isleham hosted another fundraising event on Sunday 15th December. Their Rave in the Nave in the Styx, inspired by the huge annual event at Ely cathedral, raised over £400 and everyone involved had a great time.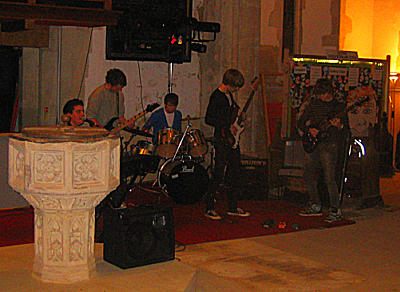 There were three bands; Unauthorised, comprising young people who attend Soham Village College; DOC, an established band of local 17/18 year olds; and The Running Mayfairs, who have played several times at The Junction in Cambridge, all gave their time and expenses for free.
There were wiifit and playstation games, giant jenga, a tuck shop and brilliant disco courtesy of David Bedford. Sylvia and Bob Allen kindly donated and manned the Bungee Run which proved very popular with the young, and not so young! There were several behind the scenes benefactors to whom we are also very grateful.

We hope to make this an annual event and perhaps by holding it on a Friday night and relaxing the age limit we can attract more young people from around the area next year!
'Adoramus'- The Granta Chorale
at St Andrew's Church, Isleham - Saturday, October 16
The music of love in all its many forms laced with flowers, spells and sleep!
The Granta Chorale, a choir of 20 - 24 singers, was formed by Janet Wheeler in autumn 2007.
Janet Wheeler is a freelance composer and choral conductor and also conducts the Saffron Walden Choral Society and directs several youth and children's choirs in the area.
In 2009 she was commissioned to write a cycle of John Clare settings to celebrate the life and work of the poet. The Granta Chorale gave the first performance of Time becomes a Song in a concert for the John Clare Trust at Glinton in Northamptonshire, close to the poet's birthplace. This delightful piece formed part of an entertaining and varied programme together with sacred pieces by Monteverdi, Byrd and Duruflé, short atmospheric songs by Britten, Mantyjarvi and Eric Whitacre and much loved jazz standards.
For more information about The Granta Chorale please see the choir's website:
www. grantachorale.org.uk